About Dungloe
Dungloe is known locally as the Capital of the Rosses, its Irish name 'An Clochán Liath' (Grey Stone), has its origins in the period before the construction of the Dungloe Bridge in 1762. Prior to this date, entry to the town was by means of stepping-stone across the river.
Dungloe is an ideal touring base from which to explore the west coast of Donegal. One of the main reasons why people come to this area is its fame as a great place for fishing due in no small measure to the work of the Rosses Angling Association. With 130 lakes, the visiting angler can enjoy the superb fishing for salmon, trout and sea trout. The wild bog and reed beds area haven for wildlife and the views of the bay, particularly the cliff views from the Golf Club South to Arranmore, are memorable.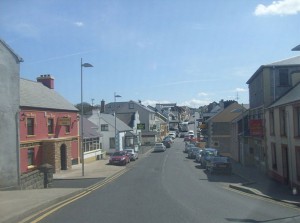 A View of Dungloe
Dungloe is officially in the Gaeltacht, and its only officially recognised name is the Irish version, An Clochán Liath. This means that the Irish version is the only one to be seen on Donegal County Council signage. However, the English version is more often seen on unofficial signage. Despite falling under the Gaeltacht region, there are few native Irish speakers in Dungloe, and English is the everyday language of the locals. Nevertheless, there are small Irish-speaking pockets outside the town.
"Mary from Dungloe"Festival
http://www.maryfromdungloe.com/
The town attracts many tourists every August when the Mary From Dungloe International Festival takes place. It was founded in the 1960s and it has been frequented by many special guests over the years including Daniel O'Donnell, Cliff Richard, Gay Byrne and Sharon Shannon.
The picturesque Dungloe Bay and surrounding hills have proved very popular with visitors and have enabled Dungloe to sustain a healthy tourism industry. There is also a festival dedicated to the socialist writer Peadar O'Donnell in Dungloe each autumn. A little to the north of the town is the site of the ancient church of Templecrone.
Errigal Mountains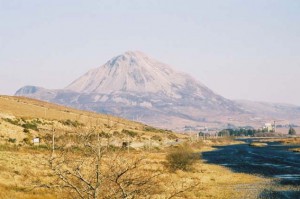 http://www.walkingandhikingireland.com/irelands-iconic-mountains-number-1-errigal/